2024 Hyundai Kona
Entering its second generation, the 2024 Hyundai Kona offers a wide array of engine choices for prospective buyers, most notably a fully electric model boasting a generous range of 418 kilometres on a single charge. In addition to its electric powertrain, the Kona rolls out two other engine variants, including in the sporty N Line edition, catering to a range of needs and personal preferences in the compact SUV market. This updated Kona features a more expansive cabin, a contemporary exterior design that's bound to grab attention, and a collection of cutting-edge tech features, positioning it as the most advanced Kona to date.
Eye-catching Design
The 2024 Hyundai Kona is striking with its one-of-a-kind design that's certain to catch the eye.
Exterior
The 2024 Hyundai Kona makes a bold statement with its distinctive exterior aesthetics that are hard to miss. Originally conceptualized as an electric vehicle, the latest Kona flaunts a refined, contemporary, and polished exterior appearance. This edition of the Kona is also more wider and longer than its predecessors, measuring 4,350 mm in length and having a wheelbase extended by 60 mm. Its increased width, now at 1,825 mm, not only gives the Kona a distinct stance on the road, it also improves shoulder room.
Hyundai's commitment to blending form with function shines through in the 2024 Kona Electric's commendable drag coefficient of just 0.27. The vehicle's aerodynamic form is evident in its sleek front and rear tailgate design. The eye-catching chrome accents, extending from the belt line to the rear spoiler, coupled with the integrated centre high-mounted stop lamp, further accentuate the vehicle's assertive character.
The electric variant of the 2024 Hyundai Kona introduces cutting-edge lighting elements, elevating its standout appearance. The Pixelated Seamless Horizon Lamp and Pixel motifs add a contemporary flair. These unique lighting features, paired with a selection of vivid exterior hues, ensure the Kona distinguishes itself from the crowd. Hyundai designers made sure that the Kona's exterior appeals to a diverse clientele, reflecting the active lifestyle of its new owners.
Interior
With the 2024 Kona, Hyundai has improved passenger and cargo space while redesigning the tech features to enhance the overall user experience. Regardless of which Kona version you buy, you will be impressed by the impressive versatility of the new Kona and its ability to meet a range of user requirements while also maximizing cabin space. The dashboard is a highlight, featuring a sleek floating horizontal C-Pad that integrates dual 12.3-inch panoramic screens for multimedia and instrumentation. This innovative layout facilitates seamless user engagement with the plethora of new functionalities.
Practicality and user-friendliness are at the heart of the Kona's revamped interior design. The strategic positioning of the shift-by-wire gear selector optimizes console space, leading to more intuitive driver controls and an enlarged centre console area. Features like a rotating cup holder underscore the console's versatility. Moreover, the redesigned front seats offer generous leg space for those seated behind, while the Curveless Bench Seat in the back ensures all passengers ride in comfort. The rear seats can be completely flattened to optimize cargo volume, boasting a substantial 723-litre capacity that can be extended to an impressive 1803 litres.
Digital Key
The Hyundai Kona is laden with state-of-the-art technology, offering groundbreaking connectivity solutions. It debuts the advanced Digital Key 2 system, allowing owners to operate their vehicles using their NFC-compatible smartphones or smartwatches without the need for a traditional key. The system even allows you to share access to the new Kona with friends and family who can then enter and start the vehicle using their own smartphone. The Surround View Monitor offers selectable views around the Kona, ensuring unparalleled visibility when parking or manoeuvring in tight spaces. The system can also detect sidewalks or provide an enhanced view of the area ahead of the Kona.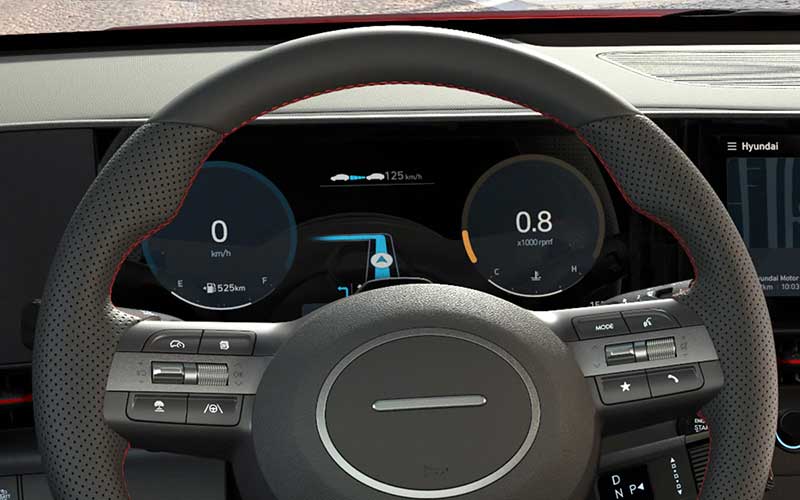 Features
The Kona Electric brings unique tech features to the table, such as front trunk storage, dynamic grille shutters, and the pioneering Vehicle-to-Load (V2L) function, which facilitates bi-directional charging and can be invaluable during power outages or family camping trips. It also incorporates the i-PEDAL, a unique acceleration pedal that enables drivers to control their vehicle's speed and braking by using just the accelerator. This is complemented by the Smart Regenerative System that adjusts to real-time traffic conditions, enhancing the vehicle's regenerative braking capabilities. The latest Kona is a tech marvel, ensuring the pinnacle of safety, luxury, and convenience.
New Versions
Beyond its visual allure, the second-generation Kona is also armed with a suite of advanced technologies. These innovations make the 2024 Kona the safest and most connected compact SUV to date. This ensures both the driver and passengers are safeguarded and constantly connected to their surroundings. In essence, the 2024 Hyundai Kona encapsulates all the elements that made its predecessor a hit with significant improvements.
Engine
The 2024 Hyundai Kona strikes the perfect balance between engine performance and engine efficiency. It offers two conventional engines and a fully electric powertrain that promises efficient driving dynamics. The 2.0-litre 4-cylinder Atkinson engine offers a harmonious blend of rapid accelerations and fuel efficiency, delivering 147 horsepower.
Kona N Line
The Kona N Line raises the stakes with its turbocharged 1.6-litre 4-cylinder engine, catering to those who want a more spirited drive. With its 195 horsepower and 195 pound-feet of torque, this turbocharged engine surpasses its predecessor in power delivery.
Kona Electric
The electric version of the 2024 Hyundai Kona is equipped with a fully electric powertrain powered by a 64.8-kWh battery, offering a range of up to 418 kilometres and rapid charging capabilities.
Kona Electric Charging
This new Kona Electric can charge from 10% to 80% charge in a mere 43 minutes. The electric motor produces 201 horsepower and 188 lb.-ft of torque, ensuring consistent control and performance in any situation.
Frequently Asked Questions about the 2024 Hyundai Kona
The 2024 Hyundai Kona is on sale now.
The 2024 Hyundai Kona is offered in multiple versions.
Essential FWD (Front-Wheel Drive): $25,999
Essential AWD (All-Wheel Drive): $27,999
Preferred FWD (Front-Wheel Drive): $28,499
Preferred AWD (All-Wheel Drive): $30,499
Preferred AWD Trend (All-Wheel Drive): $32,499
N Line AWD (All-Wheel Drive): $35,499
N Line Ultimate AWD (All-Wheel Drive): $38,499
Pricing for the 2024 Hyundai Kona Electric has not yet been released, but expect it to be eligible for both Canadian and provincial electric vehicle rebates.