2024 Hyundai Santa Fe: Redefining Excellence
Introducing the 2024 Hyundai Santa Fe
Step into a world where urban sophistication meets outdoor adventure. Introducing the 2024 Hyundai Santa Fe – designed with the perfect blend of daily functionality, bold design, and impressive technology, both inside and out. The new 2024 Hyundai Santa Fe marks the fifth generation of Hyundai's popular mid-size SUV and its engineers have reimagined every aspect of it, creating a new benchmark in its segment.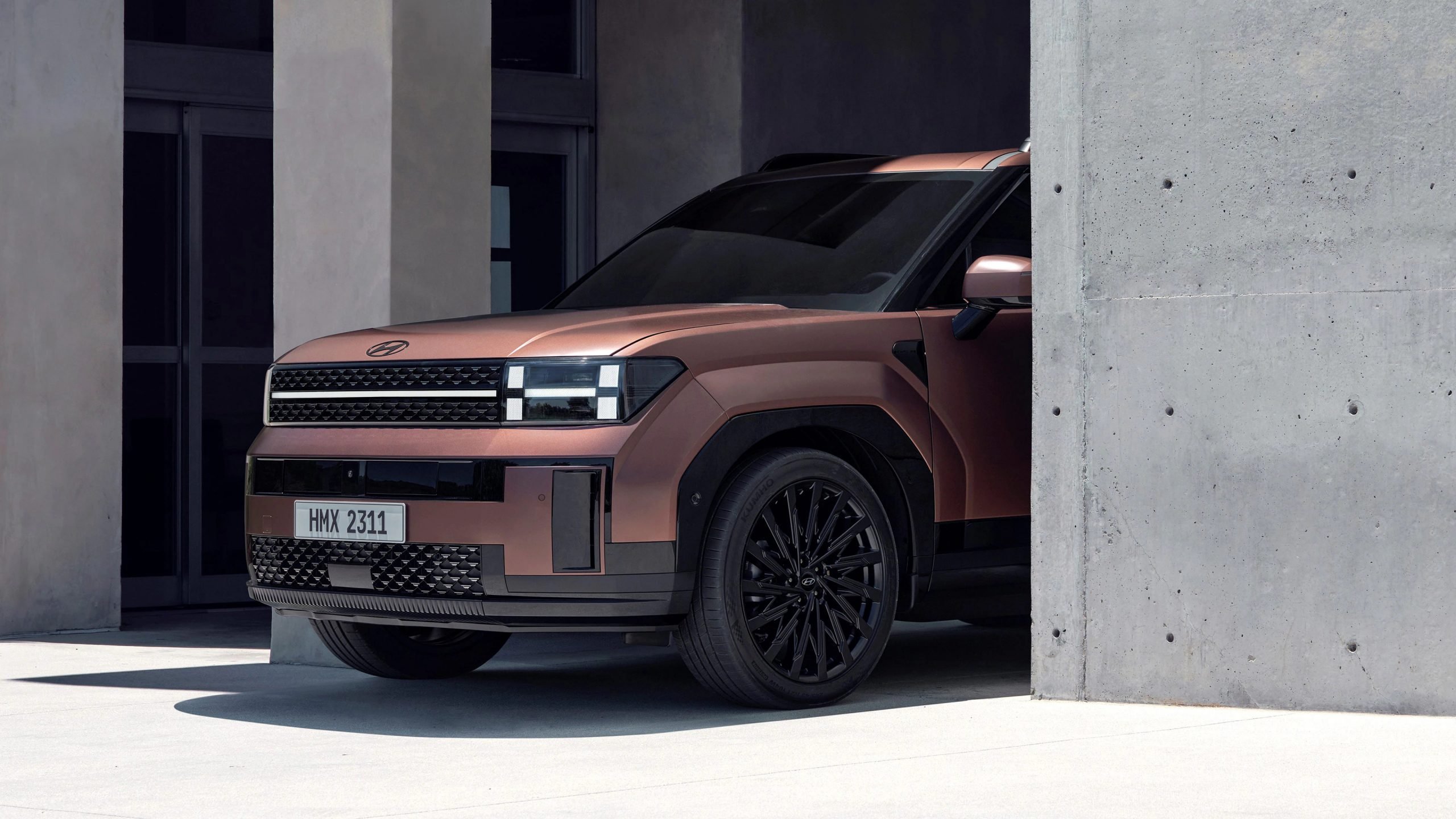 Exterior Revolution
The Hyundai Santa Fe has always marched to its own beat, and the new generation is no different. Featuring a bold exterior design, it will leave a lasting impression on the road. However, its new design is also practical and designed to optimize interior space and practicality.
Design Reinvented
The 2024 Hyundai Santa Fe emerges as a stunning SUV, presenting a strong, square, and elongated silhouette. Santa Fe's front, marked by a towering hood, emblem-inspired H-shaped headlights, and pronounced fenders, demands attention. Its side profile, amplified by a bold roofline, robust wheel arches, and striking 21-inch wheels, culminates in the rear with harmonized H-shaped taillights, ensuring its unmistakable presence on the road.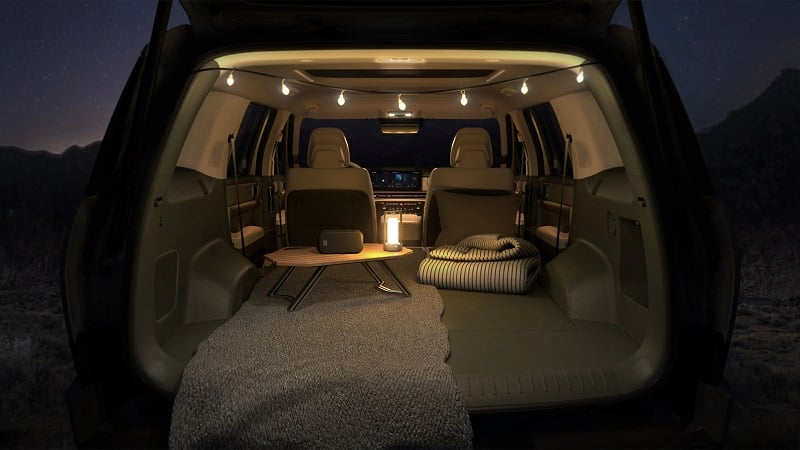 Urban Meets Outdoor
Bridging the gap between city life and outdoor escapades, this SUV is crafted to provide a premium experience, evident from its elongated wheelbase, roomy interiors, and a tailgate that unfolds into a terrace-like space. The new 2024 Santa Fe is designed to exceed expectations, wherever the journey takes you.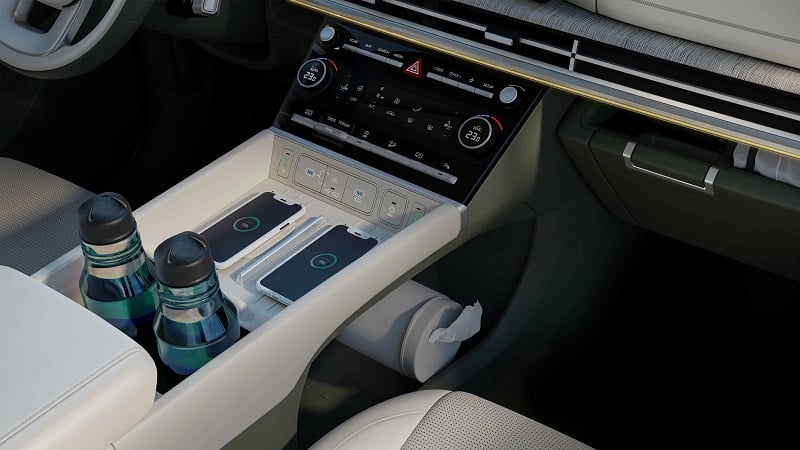 More Cargo Space
The new 2024 Hyundai Santa offers more cargo space than ever with an extra 91 litres of cargo capacity. Moreover, the redesigned 2024 Hyundai Santa Fe offers the widest cargo area opening of any midsize three-row SUV in its class. You always have room in the new Santa Fe.
Key Benefits
Unmatched Comfort and Space
Redefine your expectations of comfort with the 2024 Hyundai Santa Fe's enhanced chassis and expanded interior space. The Santa Fe ensures a luxurious and soothing journey for all passengers.
Adaptive Versatility
The 2024 Santa Fe offers unparalleled versatility with its segment-leading cargo area opening and abundant space across all rows. It will cater to your every need, whether it's loading up for an outdoor adventure or accommodating your family and friends comfortably.
Connected Excellence
Step into the future with the technological prowess of the 2024 Hyundai Santa Fe. Seamlessly intertwining connectivity and safety, this SUV keeps you secure with advanced features while offering conveniences like wireless charging and a cutting-edge digital rear-view camera. Stay in control and connected on every road.
The Perfect Engine
Personalize your driving experience with the 2024 Santa Fe's range of powertrain options. From the dynamic turbocharged 2.5-liter engine to the eco-friendly 1.6-liter turbo, this SUV grants you the power to choose a driving style that aligns with your preferences. Enjoy versatile performance that suits your every journey.
Interior Innovations
The interior of the new 2024 Hyundai Santa Fe blends refinement, technology, and space like no other midsize SUV can. It will give you everything you want in your next SUV with zero compromise.
Sophistication Inside Out
The inside of the Santa Fe matches the exterior's grandeur, incorporating both horizontal and vertical design cues. The dashboard, embellished with the emblematic "H" pattern, accentuates spaciousness. It's not just about aesthetics; practicalities like UV-C sterilization and dual wireless charging ensure a blend of luxury and functionality.
Sustainability Meets Style
Rooted in research and customer insights, Hyundai crafted interiors to resonate with its owners. Notably, the focus on sustainability shines through, with the incorporation of eco-friendly materials on most interior surfaces. Even the seats prioritize health and safety, achieving a Class 1 certification in Europe.
Optimized Comfort
Hyundai's commitment to passenger comfort is evident in the expanded legroom across both the second and third rows. The third-row stands out with its best-in-class headroom, giving passengers a luxurious seating experience, further optimized by multiple seat adjustments.
In Conclusion
The 2024 Hyundai Santa Fe is not just an SUV; it's a statement. Whether you're navigating urban jungles or venturing into the wild, it promises a journey of comfort, style, and unmatched functionality. It will arrive on the market in the first half of 2024.